This is like BACON to a Muslim or having a dog in their midst!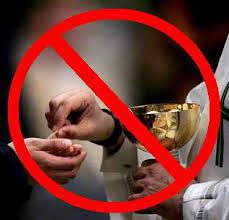 Not being able to take the UN-holy Eucharist signifies being damned to hell which is the fate of all Catholics who believe in that crap anyway!!!
John 8:47 "He that is of God heareth God's words: ye therefore hear them not, because ye are not of God."
Matthew 15:7-9 "Ye hypocrites, well did Esaias prophesy of you, saying, 8 This people draweth nigh unto me with their mouth, and honoureth me with their lips; but their heart is far from me.9 But in vain they do worship me, teaching for doctrines the commandments of men."
SPRINGFIELD, Ill. (ChurchMilitant.com) – The Illinois legislature's recent passage of one of the nation's most radical abortion laws has prompted the diocese of Springfield to take the extreme measure of denying Holy Communion to nominally Catholic House Speaker Michael Madigan, Senate President John Cullerton and rank-and-file legislators.

"The Eucharist is the most sacred aspect of our Catholic faith," Springfield's Bp. Thomas Paprocki said in a diocesan press release, continuing:

As sacred Scripture warns, "Whoever eats unworthily of the bread and drinks from the Lord's cup makes himself guilty of profaning the body and of the blood of the Lord." To support legislation that treats babies in the womb like property, allowing for their destruction for any reason at any time, is evil. It's my hope and prayer these lawmakers reconcile themselves to the Church so they can receive Communion.

In a statement to WGN News, Madigan, a Democrat, acknowledged Bp. Paprocki warned the politician beforehand that he'd be denied Holy Communion if he continued to support the bill.

Rather than yielding to the bishop's admonition, however, he stated: "The Reproductive Health Act is a recognition that women across Illinois deserve access to health care without intrusion of government." Read more from one of their own damned to hell websites
WARNING! DANGER Will Robinson DANGER!!
One must be very very careful about taking communion. If you take it in an unworthy manner, you can eat and drink yourself into sickness, disease or even damnation! There are millions, especially Catholics, that are taking it in an unworthy manor.
Read what the scripture says; 1st Corinthians 11:27-32 "Wherefore whosoever shall eat this bread, and drink this cup of the Lord (take communion), unworthily, (not being Born Again and having your FAITH exclusively in Jesus Christ and NOTHING else) shall be guilty of the body and blood of the Lord. (will be judged harshly) 28 But let a man examine himself (see if there is any confessed sin or if your faith is some where else), and so let him eat of that bread, and drink of that cup. 29 For he that eateth and drinketh unworthily, eateth and drinketh damnation to himself, not discerning the Lord's body. (what he did for you on the Cross) 30 For this cause many are weak and sickly among you, and many sleep (die prematurely). 31 For if we would judge ourselves, we should not be judged. 32 But when we are judged, we are chastened of the Lord, that we should not be condemned with the world"
Read more about the Blasphemy of the Eucharist the Catholic way here 

---
If you go to the store to buy Meat, don't run to the
Milk section
or the
Junk Food aisle
looking for it!!
The Meat Section is the
True Gospel of Jesus Christ
.
The Milk Section is likened to those who will not preach on sin and
Hell
, just a feel good message, the Social gospel.
The Junk Food Isle is the outright false doctrine AKA the prosperity gospel, name it and claim it, the Hebraic Roots movement and other false teachings!!
Feasting on just Milk and Junk will eventually cause you great harm, you can count on it!!
---
If you appreciate what this Ministry is doing to Expose the Fake Christians, Satanists, Witches, Communist/Socialist Democrats, R.I.N.O Republicans and the assault on our Conservative,
True Christian
values,
please consider a small donation
to help us continue and expand. This Ministry is not only under attack by the Enemy, we are now under attack from supposed Christians also. It is what
Tom Horn calls 'Blood on the Altar"
!