The Bastard Pope (Hebrews 12:8) is showing once again that he IS an enemy of God and HIS Holy Word!
The false prophet opined that American Christians are "backwards" during a conversation with a group of Jesuits in an interview published Monday, and called for more progressivism in the church in the US.
"It is clear that today the issue of homosexuality is very strong, and the sensitivity in this regard changes according to historical circumstances," he said.
Uh hey false prophet, have you ever read the words written in the Bible? God and HIS Word does NOT change, and never will! – Hebrews 13:8 "Jesus Christ the same yesterday, and to day, and for ever."
And with that, here is what The Apostle Paul said about being a Sexual Pervert, and for anti-Christs like the Bastard (Hebrews 12:8) Pope…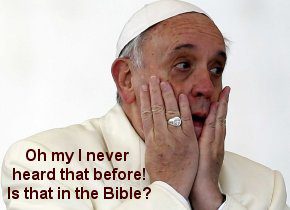 Romans 1:18-32 "For the wrath of God is revealed from heaven against all ungodliness and unrighteousness of men, who hold the truth in unrighteousness; 19 Because that which may be known of God is manifest in them; for God hath shewed it unto them. 20 For the invisible things of him from the creation of the world are clearly seen, being understood by the things that are made, even his eternal power and Godhead; so that they are without excuse: 21 Because that, when they knew God, they glorified him not as God, neither were thankful; but became vain in their imaginations, and their foolish heart was darkened. 22 Professing themselves to be wise, they became fools, 23 And changed the glory of the uncorruptible God into an image made like to corruptible man, and to birds, and fourfooted beasts, and creeping things. 24 Wherefore God also gave them up to uncleanness through the lusts of their own hearts, to dishonour their own bodies between themselves: 25 Who changed the truth of God into a lie, and worshipped and served the creature more than the Creator, who is blessed for ever. Amen. 26 For this cause God gave them up unto vile affections: for even their women did change the natural use into that which is against nature: 27 And likewise also the men, leaving the natural use of the woman, burned in their lust one toward another; men with men working that which is unseemly, and receiving in themselves that recompence of their error which was meet. 28 And even as they did not like to retain God in their knowledge, God gave them over to a reprobate mind, to do those things which are not convenient; 29 Being filled with all unrighteousness, fornication, wickedness, covetousness, maliciousness; full of envy, murder, debate, deceit, malignity; whisperers, 30 Backbiters, haters of God, despiteful, proud, boasters, inventors of evil things, disobedient to parents, 31 Without understanding, covenantbreakers, without natural affection, implacable, unmerciful: 32 Who knowing the judgment of God, that they which commit such things are worthy of death, not only do the same, but have pleasure in them that do them.
Here are some quotes spewed forth out of his Demonic mouth
"But what I don't like at all, in general, is that we look at the so-called 'sin of the flesh' with a magnifying glass, just as we have done for so long for the sixth commandment," he said. "If you exploited workers, if you lied or cheated, it didn't matter, and instead sins below the waist were relevant."
"I am not afraid of sexualized society," the pope declared. "No, I am afraid of how we relate to it."
The pope slammed Americans for their conservatism, demanding the church in America take on a more progressive stance.
"The situation is not easy in the United States where there is a very strong reactionary attitude," the pontiff said. "It is organized and shapes the way people belong, even emotionally."
"I would like to remind those people that 'backwardism' is useless and we need to understand that there is an appropriate evolution in the understanding of matters of faith and morals," the pope declared to the Jesuit community present in Portugal during the recent celebration of World Youth Day.
As examples, Francis said that "today it is a sin to possess atomic bombs" and "the death penalty is a sin," but "it was not so before," in reference to changes he has made in Church teaching.
Doctrine "progresses, expands, and consolidates with time and becomes firmer, but is always progressing," he continued.
"Our understanding of the human person changes with time and our consciousness also deepens," he stated. "The other sciences and their evolution also help the Church in this growth in understanding."
"The view of Church doctrine as monolithic is erroneous," he added.
"The problems that moralists have to examine today are very serious, and to deal with them they have to take the risk of making changes," he asserted.
---
If you go to the store to buy Meat, don't run to the
Milk section
or the
Junk Food aisle
looking for it!!
The Meat Section is the
True Gospel of Jesus Christ
.
The Milk Section is likened to those who will not preach on sin and
Hell
, just a feel good message, the Social gospel.
The Junk Food Isle is the outright false doctrine AKA the prosperity gospel, name it and claim it, the Hebraic Roots movement and other false teachings!!
Feasting on just Milk and Junk will eventually cause you great harm, you can count on it!!
---
If you appreciate what this Ministry is doing to Expose the Fake Christians, Satanists, Witches, Communist/Socialist Democrats, R.I.N.O Republicans and the assault on our Conservative,
True Christian
values,
please consider a small donation
to help us continue and expand. This Ministry is not only under attack by the Enemy, we are now under attack from supposed Christians also. It is what
Tom Horn calls 'Blood on the Altar"
!