Matthew 15:7-9 "Ye hypocrites, well did Esaias prophesy of you, saying, 8 This people draweth nigh unto me with their mouth, and honoureth me with their lips; but their heart is far from me.9 But in vain they do worship me, teaching for doctrines the commandments of men."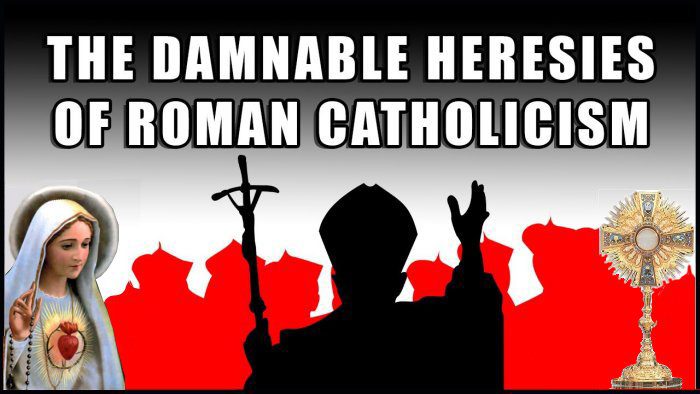 ---
Pope Francis meets Trannys – guests of Rome church
Pope Francis has met with a fourth group of transgender people who found shelter at a Rome church, the Vatican newspaper reported Thursday.
L'Osservatore Romano said the encounter took place Wednesday on the sidelines of Francis' weekly general audience. The newspaper quoted Sister Genevieve Jeanningros and the Rev. Andrea Conocchia as saying the pope's welcome brought their guests hope.
The Blessed Immaculate Virgin community in the Torvaianica neighborhood on Rome's outskirts opened its doors to transgender people during the coronavirus pandemic.
Francis previously met with some of them on April 27, June 22 and Aug. 3, the newspaper said.
"No one should encounter injustice or be thrown away, everyone has dignity of being a child of God," the paper quoted Sister Jeanningros as saying.
Francis has earned praise from some members of the LBGTQ community for his outreach. When asked in 2013 about a purportedly gay priest, he replied, "Who am I to judge?" He has met individually and in groups with transgender people over the course of his pontificate. Read more here
Best you educate on  Judging Others: The Biblical Way according to the Word of God
Pope Francis Begs Forgiveness for 'Evil' Committed Against Indigenous Canadians
Note: Most  news outlets, and the false prophet pope say "Christians", when they should have said "Catholics"! This Disciple of Satan speaks for his lemmings, NOT True Christians!
ROME, Italy — Pope Francis held his first meeting with the indigenous peoples of Canada on Monday, in which he repeatedly apologized for the sins and evil committed by Christians against the native population.
Reiterating the nature of his visit as "a penitential pilgrimage," the pontiff said he traveled to Canada "to tell you in person of my sorrow, to implore God's forgiveness, healing and reconciliation, to express my closeness and to pray with you and for you." Read the rest here
Pope Drops Another Retirement Hint
The Pope has said it is 'not a catastrophe' should he retire as head of the Catholic Church due to health issues that have affected his mobility.
Pope Francis, 85, acknowledged Saturday that he can no longer travel like he used to because of his strained knee ligaments. 
He was speaking after a weeklong pilgrimage to Canada in which he apologised to Indigenous peoples for the injustices they suffered in Canada's church-run residential schools.
The pontiff described the trip as 'a bit of a test' that showed he needs to slow down and one day possibly retire. Read the rest here
The Pope Says 'Humanity Must Repent For Abusing Mother Earth'
Pope Francis has demanded that humans "repent and modify their lifestyles" because of our abuse of Mother Earth.
In a message for the Celebration of the World Day of Prayer for the Care of Creation on Thursday, the Pope condemned the "mistreatment" of our common home stemming from "our consumerist excesses," "tyrannical anthropocentrism," "predatory economic interests," and "short sighted and selfish actions" saying they lead to the collapse of our planet's ecosystems. Read the rest here
Burnt-out Catholic exorcists complain they face long lines of 'possessed' people, and little support from bishops
Note: The reason so many Catholics are possessed is it is a Pagan religion and they worship IDOLS!!
A survey from a Vatican-approved religious university in Rome found that Catholic exorcists feel overworked and undersupported by bishops, according to The Times of London.
Italian exorcists spoke to researchers at Regina Apostolorum's 16th annual exorcism course in Rome, attended by 120 participants, The Times reported.
The course attracted a significant crowd thanks to Pope Francis's support of exorcism, the paper said. He has previously spoken about helping those who are "possessed by evil," per The Times, and made exorcism an official Catholic practice, according to the Independent. Read the rest here
---
If you go to the store to buy Meat, don't run to the
Milk section
or the
Junk Food aisle
looking for it!!
The Meat Section is the
True Gospel of Jesus Christ
.
The Milk Section is likened to those who will not preach on sin and
Hell
, just a feel good message, the Social gospel.
The Junk Food Isle is the outright false doctrine AKA the prosperity gospel, name it and claim it, the Hebraic Roots movement and other false teachings!!
Feasting on just Milk and Junk will eventually cause you great harm, you can count on it!!
---
If you appreciate what this Ministry is doing to Expose the Fake Christians, Satanists, Witches, Communist/Socialist Democrats, R.I.N.O Republicans and the assault on our Conservative,
True Christian
values,
please consider a small donation
to help us continue and expand. This Ministry is not only under attack by the Enemy, we are now under attack from supposed Christians also. It is what
Tom Horn calls 'Blood on the Altar"
!