Demonic Catholic News Headlines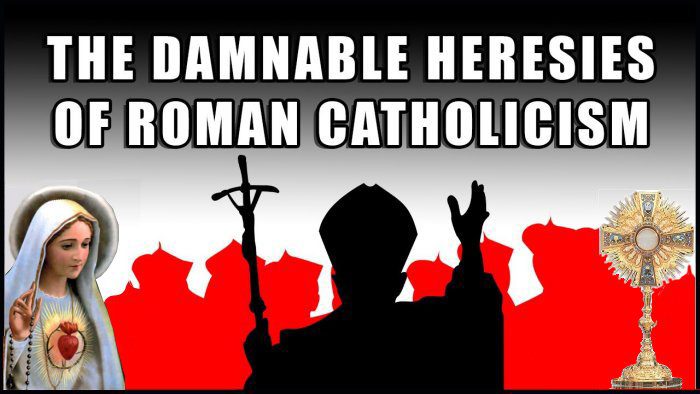 Danger Will Robinson, Danger! NEVER take any Spiritual instruction, or any Biblical advice of any kind, from a Catholic be they Clergy or a lay person!  They are Biblically Ignorant in all matters!
---
Pope Francis: 'We Need a Vaccine for Our Hearts'
Sorry, but you won't find it in the pagan whore religion that is Catholicism in any shape or form! Your heart can ONLY be cleansed by Jesus Christ, NOT MARY or the church!
ROME — Pope Francis said Friday that humanity needs a vaccine for the "heart" along with a vaccine for the coronavirus.
For the New Year's Day Mass, when Catholics celebrate both the World Day for Peace and honor the Virgin Mary as "Mother of God," the pope pointed to Mary's example of keeping "all these things in her heart" (cf. Lk 2:19) as an important message for Christians.
Goodness "comes from the heart," the pope said in his homily, which the Vatican Secretary of State Cardinal Pietro Parolin read. "How important it is to keep our hearts pure, to cultivate our interior life and to persevere in our prayer!"
"How important it is to educate our hearts to care, to cherish the persons and things around us," he continued. "Everything starts from this: from cherishing others, the world and creation."
"This year, while we hope for new beginnings and new cures, let us not neglect care. Together with a vaccine for our bodies, we need a vaccine for our hearts. That vaccine is care," he said.
"This will be a good year if we take care of others, as Our Lady does with us," he added.  Read more of what this Bastard has to say here
---
Sex Abuse Victim Says German Nuns Were 'Pimps' For Pedophile Priests & Politicians
Catholic nuns at a now-shuttered Catholic children's home in Germany have been accused by a sex abuse victim of 'pimping' out orphans to priests, politicians and other wealthy men.
The evil nuns would rent out the boys to priests and politicians would rape the children as other men watched at children's home.
The victim, who is now in his 60's, has remained anonymous despite fighting and winning a legal battle for compensation back in May over the horrors he and others endured. The abuse started when he was just 5 years old in March 1963.
The New York Post reports: The man, who has struggled with post-traumatic stress disorder and depression since then, was awarded a total of 25,000 euros by German courts due to claims he'd been raped more than 1,000 times. Read more her
---
In His Christmas Day Address, Pope Francis Called for All the World to be Vaccinated, Even if Vaccines Are Made From Aborted Baby Parts
In his Christmas Day address, Pope Francis appealed to the nations of the world to share the new coronavirus vaccines with the most needy, and aborted baby parts don't matter.
Pope Francis had an interesting Christmas message this year, he called for all the world to be vaccinated, an end of nationalism, and he didn't care if aborted baby parts were in the vaccines.
Sounds more like a message from a politician than from a religious leader, right?  Read more here
---
Another Vatican Insider: COVID-19 is Being Used by 'Certain Forces' to Advance Their ' Evil Agenda'
Former Apostolic Nuncio to the United States of America, Carlo Maria Viganò, has recently been joined by another Vatican 'insider.' His name is Cardinal Raymond Leo Burke.
Burke is the founder of The Shrine of Our Lady of Guadalupe, former head of the Vatican Supreme Court and patron of the Sovereign Military Order of Malta. Read more here
---
Vatican Joins Some of the Largest Corporations to Promote an Inclusive 'Reform' of Capitalism
Reforming the economic system to make it more equitable and sustainable. This is how the raison d'être of the Council for Inclusive Capitalism can be summarized.
The Vatican has joined this platform formed by leaders of some of the biggest multinational corporations such as Visa, Johnson & Johnson, BP, Allianz and Bank of America, as well as foundations and large global non-profit organizations.
The Council defines itself as an "partnership" and "alliance" that "signifies the urgency of joining moral and market imperatives to reform capitalism into a powerful force for the good of humanity."
In fact, Pope Francis stands out among the main leaders of the initiative, alongside Roman Catholic Cardinal Prefect of the Dicastery for the Promotion of Integral Human Development Peter Turkson, and a group of influential business leaders who call themselves "Guardians."
---
The Vatican Issues a Controversial Pro-Vaccine Edict Stating That Refusing the Vaccine May Constitute a Risk to Others
After being silent, if not supportive of the sanitary dictatorship repression and the closing of churches, the Vatican just issued a new controversial edict declaring the Covid-19 vaccination a "moral responsibility," something that proves once again Pope Francis' church is willing to endorse evil.The document in question consists of three parts:
A. Context
B. On vaccines
C. Guidelines for the Vatican Covid-19 Commission
The Vatican states that: "On the moral responsibility of undergoing vaccination it is necessary to reiterate how this issue also involves the relationship between personal health and public health, showing their close interdependence. In light of this connection, we consider it important that a responsible decision be taken in this regard, since the refusal of the vaccine may also constitute a risk to others. "
---
If you go to the store to buy Meat, don't run to the
Milk section
or the
Junk Food aisle
looking for it!!
The Meat Section is the
True Gospel of Jesus Christ
.
The Milk Section is likened to those who will not preach on sin and
Hell
, just a feel good message, the Social gospel.
The Junk Food Isle is the outright false doctrine AKA the prosperity gospel, name it and claim it, the Hebraic Roots movement and other false teachings!!
Feasting on just Milk and Junk will eventually cause you great harm, you can count on it!!
---
If you appreciate what this Ministry is doing to Expose the Fake Christians, Satanists, Witches, Communist/Socialist Democrats, R.I.N.O Republicans and the assault on our Conservative,
True Christian
values,
please consider a small donation
to help us continue and expand. This Ministry is not only under attack by the Enemy, we are now under attack from supposed Christians also. It is what
Tom Horn calls 'Blood on the Altar"
!