Demonic Catholic News Headlines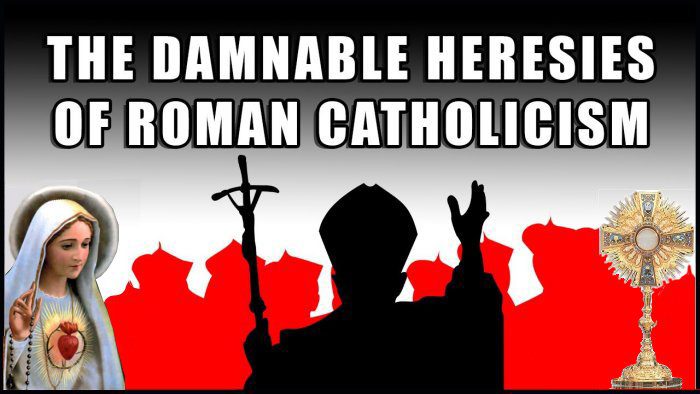 Danger Will Robinson, Danger! NEVER take any Spiritual instruction, or any Biblical advice of any kind, from a Catholic be they Clergy or a lay person!  They are Biblically Ignorant in all matters!
---
Massive Blackout in Vatican Following Release of Affidavit Revealing Italian Interference in US Election
As news of an international conspiracy involving the Italian government to remove President Donald Trump picks up steam, a massive blackout just hit the Vatican.
The timing of this suggests something very big is happening, especially following the release of a sworn affidavit revealing the Italian government played a huge part in the US presidential election. Read more here
---
Pope Calls Coronavirus Vaccinations an Ethical Obligation accusing those who refuse of "Suicidal Denial"
Last summer, Pope Francis said that the potential coronavirus vaccine should be made available to all. Now, in an interview scheduled to air this weekend on Berlusconi's TV Canale 5, Pope Francis said that "everyone" must take the COVID-19 vaccine. 
"I believe that, ethically, everyone should take the vaccine," he said, according to a transcript released in advance of the airing of the interview. 
The Jesuit Pope added that he would be taking the vaccine himself, and that the Vatican will start administering it to its citizens "next week," remarking that "it must be done."Francis did not specify the exact timing of his inoculation, but Francis' plan sends a significant pro-vaccine signal to the world's 1.3 billion Catholics duped into this dangerous choice. 
The Pope's vaccine news was released simultaneously with the news that Britain's Queen Elizabeth II, 94, and her husband Prince Philip, 99, received vaccines against coronavirus, officials from Buckingham Palace said Saturday. Source
---
Pope Francis breaks silence on Trump supporter US capitol riots 'Thank God this exploded!'
POPE FRANCIS has lashed out against Donald Trump supporters rioting at the Capitol building in Washington DC, labelling it as an act "against democracy".
Speaking to Canale 5, in an interview that will air Sunday, Pope Francis said he was "amazed" at the violence on Wednesday as he regards the US as "so disciplined in Democracy."
He said even in "the most mature reality, there is always something that doesn't work, people who take a path against the community, against democracy and against the common good".
The Pope went on to state violence "must always be condemned, regardless of those who perpetrate.
"Thank God this exploded, so it can be seen, so it can be remedied." Read more here
---
The Jesuit 'America Magazine' Gives Enthusiastic Support To Rabid Pro- Abortion 'Religious Liberal' Democrats Raphael Warnock And Joe Biden

Warnock, who leads the Atlanta church where the Rev. Martin Luther King Jr. once preached, will become Georgia's first African American senator after a hard-fought runoff that saw GOP opponent Kelly Loeffler cite his sermons in attack ads that portrayed him as radical. His self-identification as a " pro-choice pastor " angered conservatives, but Warnock's win in a state that Biden turned blue for the first time since 1992 has religious progressives hopeful that Democrats will keep broadening their outreach to voters of faith. Read more here
---
Pope Francis Consecrates New Year to Deceased Mary for Annual 'Mother of God' Observance
On one of the Roman Catholic feast days following Christmas, "Solemnity of Mary, Mother of God," Jorge Bergoglio, also known as "Pope Francis," consecrated 2021 to the deceased Mary, asking that she bless the days ahead and help men to find time for God and others. His words were affirmed by some and rebutted by others.
"Holy Mother of God, to you we consecrate this new year," he said at the end of his homily read during mass on Friday by Vatican Secretary of State Pietro Parolin. Bergoglio sent his words ahead as he was unable to be present due to a bout with sciatica.
"You, who know how to cherish things in your heart, care for us, bless our time, and teach us to find time for God and for others," he wrote. "With joy and confidence, we acclaim you holy mother of God! Amen."  Read more here
---
Woman threatens to bomb Catholic school for sharing same-sex marriage announcements
A California woman pleaded guilty to threatening to bomb a Catholic private school in Washington, D.C. over same-sex marriage announcements, the Department of Justice announced Monday.
Sonia Tabizada, 36, threatened to commit "terrorism" against the Georgetown Visitation Preparatory School, an all-girls Catholic school, after they said they would allow same-sex marriage announcements to be published in the school's alumni magazine, according to the Justice Department (DOJ). Read more here
---
Renegade Priest on Leave Over Child Sex Abuse Allegation
A notorious Chicago priest is without a parish after an allegation of sexual abuse against a minor surfaced against him.
Father Michael Pfleger is complying with the Chicago archdiocese's request to take a leave of absence as pastor of St. Sabina after a report he sexually abused a minor.
"In keeping with our child protection policies, I have asked Fr. Pfleger to step aside from ministry following receipt by the archdiocese of Chicago's Office for Child Abuse Investigations and Review of an allegation of sexual abuse of a minor more than 40 years ago," said Cdl. Blase Cupich in a letter published on Tuesday.
"Allegations are claims that have not been proven as true or false. Therefore, guilt or innocence should not be assumed," he added. More Here
---
Vatican claims no knowledge of $1.8 billion quietly transferred to Australia
When Pope Benedict in 2013 took the almost unprecedented action of stepping down from the papacy (given that all or most popes throughout history have served till death), rumors swirled that it was due to extreme irregularities and corruption within the Vatican's notoriously opaque finances. Ostensibly his stepping aside which paved the way for Pope Francis was due to declining health in old age, but speculation has persisted since that it was actually his inability to clean up the mess, or the fact that he was at the helm as scandals persisted.
Since then, further scandals and irregularities at the Vatican Bank have continued to emerge, with the latest in the past weeks being the "disappearance" of a whopping $1.8 billion. Mysterious transfers which eventually totaled to that amount were flagged coming into Australia over the past six years.
The Roman Catholic Church is now denying that it knows anything about it: "The Vatican and the Australian Catholic Church have both denied knowledge of transfers worth US$1.8 billion which Australia's financial watchdog says have been sent from Rome to Australia in the past seven years," writes Reuters. Read more here
---
If you go to the store to buy Meat, don't run to the
Milk section
or the
Junk Food aisle
looking for it!!
The Meat Section is the
True Gospel of Jesus Christ
.
The Milk Section is likened to those who will not preach on sin and
Hell
, just a feel good message, the Social gospel.
The Junk Food Isle is the outright false doctrine AKA the prosperity gospel, name it and claim it, the Hebraic Roots movement and other false teachings!!
Feasting on just Milk and Junk will eventually cause you great harm, you can count on it!!
---
If you appreciate what this Ministry is doing to Expose the Fake Christians, Satanists, Witches, Communist/Socialist Democrats, R.I.N.O Republicans and the assault on our Conservative,
True Christian
values,
please consider a small donation
to help us continue and expand. This Ministry is not only under attack by the Enemy, we are now under attack from supposed Christians also. It is what
Tom Horn calls 'Blood on the Altar"
!