'Pope Francis' Claims: 'For the Entire Course of Her Life, Mary Was Free From Any Stain of Sin'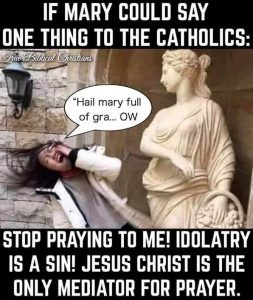 ROME — In one of the feasts and celebrations marked on the Roman Catholic liturgical calendar leading up to Christmas, Catholics around the world observed the Feast of Immaculate Conception on Tuesday, a day in which those who follow the religion commemorate their belief that Mary was conceived in her mother's womb without original sin. The doctrine has been deemed unbiblical and rejected by evangelicals.
"Even she ( Mary) was saved by Christ, but in an extraordinary way," Jorge Bergoglio, the leader of Roman Catholicism known as "Pope Francis," stated during his Angelus address over St. Peter's Square, "because God wanted that the mother of His Son not be touched by the misery of sin from the moment of her conception."
"And so, for the entire course of her earthly life, Mary was free from any stain of sin," he claimed. "She was the [one] 'full of grace' as the angel called her."
Bergoglio made his customary visit to the Piazza di Spagna in Rome to pray to Mary before a sculpture that was commissioned in 1857 by Pius IX. The figure, which rests atop the lofty Column of Immaculate Conception, was created by Giuseppe Obici, and shows Mary stomping the head of a serpent.
"With the first light of dawn, under the rain, Pope Francis placed a bouquet of roses at the base of the column where the statue of the Madonna is, and turned to her in prayer, so that she might lovingly watch over Rome and its inhabitants, entrusting to her all in the city and the world who are afflicted by illness and discouragement," according to a statement from the Holy See Press Office.
He also visited the Basilica of St. Mary Major, where he prayed before the Maria Salus Popoli Romani, which being translated means " Mary, Health/Protection of the Roman People."
The oil-based painting depicts Mary holding the Christ child and has been visited by Vatican leadership for centuries, being carried throughout Rome in 593 to pray for the end of the Black Plague. Gregory XVI prayed before it in seeking help in the midst of the cholera outbreak of 1837.
Bergoglio then observed mass in the basilica's Chapel of Nativity before returning back to the Vatican. Read more here
Top Mariologists Ask Mary to Be Called Co-Redemptrix
ChurchMilitant.com – Though Pope Francis seemingly shelved petitions for the Marian title of Co-redemptrix, top American theologians continue to seek Vatican approval for it.
Concerning a December homily in which Pope Francis apparently downplayed requests for the Church to officially proclaim new Marian titles, two esteemed Marian theologians are saying this doesn't permanently close the door on such petitions.
Doctor Mark Miravalle, professor of theology at Franciscan University of Steubenville, and Dr. Robert Fastiggi, professor at Sacred Heart Major Seminary, published an article on Wednesday explaining why they'll keep asking the Church to grant Mary not only the title of Co-redemptrix but also the titles of Mediatrix of all Graces and Advocate as well.
"Although the Holy Father currently holds a certain position on new Marian dogmas, there is nothing to prevent a further development in his attitude," they said.
Miravalle is president of Vox Populi Mariae Mediatrici, a group that has been a leading voice in petitioning the Vatican for these specific Marian titles. He and Fastiggi believe Francis will be open to such proclamations based on past evidence of his Marian devotion.
"There is nothing in Pope Francis's homily of Dec. 12 that rejects Marian coredemption. From prior statements of his, it's clear that he affirms this doctrine," they said.
They note Mary was already being referred to in the popular devotion by the Middle Ages. The prefix "co-" came in around the 14th century.
"During the 14th and 15th centuries, however, the prefix 'co' from the Latin cum (with) was added to make it clear that Mary's role in redemption was with and under Christ, the Redeemer," the theologians explained.
But it was after the 1700s, they recalled, that the Catholic Magisterium started referring more openly to Mary's role of co-redemption. They show how these references become even more explicit in the 20th century:
In 1908 the Sacred Congregation for Rites referred to Mary as "the merciful Co-redemptrix of the human race." … In 1913, the Holy Office approved a prayer invoking Mary as "our Co-redemptrix." … In 1914 the same Holy Office gave approval to a prayer appealing to Mary as "the Co-redemptrix of the human race." … Pope Pius XI publicly referred to Mary as co-redemptrix on three separate occasions and John Paul II used the title at least six times.
They further relate that Pope John Paul II at a general audience in 1980 "invited the sick to transform their pain into a 'loving offering in imitation of the Virgin Mary, the Co-redemptrix.'"
Because they believe they're on solid theological ground and hope the pope won't oppose petitions for these Marian titles, they'll keep asking.
"This is why groups like Vox Populi Mariae Mediatrici will continue to pray and petition for the solemn definition of Our Lady's Spiritual Motherhood," they said, "inclusive of her three motherly functions as Co-redemptrix, Mediatrix of all Graces and Advocate, but always in complete obedience, fidelity and respect for the present Roman Pontiff, who is the supreme Vicar of Christ on earth."
Is Mary the co-redemptrix / mediatrix?
Answer…, Absoultly Not in anyway, shape, or form!
Some Catholics view Mary as a co-redemptrix or a mediatrix who plays a key role in the salvation of mankind. (The suffix -trix is a feminine word ending in Latin, so a redemptrix is a female redeemer, and a mediatrix is a female mediator.) Within Catholicism, there is a drive to define a new Marian dogma in which Catholics, as a matter of faith, would be obliged to accept these three doctrines: (1) Mary participates in redemption with Jesus Christ, (2) grace is granted by Jesus only through the intercession of Mary, and (3) all prayers from the faithful must flow through Mary, who brings them to the attention of her Son. This movement would, in practice, redefine the Trinity as a kind of Quartet.
The belief in Mary as a co-redemptrix would be in addition to current Catholic teaching on Mary, which states that Mary was a virgin perpetually, that she never had intercourse with her husband, Joseph; that she never had children other than Jesus; and that she was sinless and ascended into heaven. These teachings are more than unscriptural; Scripture directly refutes them.
The idea that Mary is a co-redemptrix or mediatrix contradicts 1st Timothy 2:5, which says, "For there is one God and one mediator between God and mankind, the man Christ Jesus." Jesus is the Mediator. There is no mediator between man and Jesus. Jesus Himself dwells in believers; thus, none is required (Colossians 1:27).
Jesus is the perfect and sole Mediator between man and God because He is the sinless Son of God. Mary was not sinless. There is no Scripture whatsoever to back the claim of Mary's sinlessness or of her assumption into heaven. This dogma was accepted as a result of papal proclamation. In the biblical narratives, Mary is pictured as a humble and submissive young woman, faithful to God, grasping the implications of what is about to happen to her, and uttering praises and doxologies (Luke 1:46-55). In fact, in her Magnificat, Mary says, "My spirit rejoices in God my Savior" (Luke 1: 47). The clear implication of Mary's calling God her "Savior" is that she recognized her need of salvation. Just like the rest of us, Mary needed a Savior, a Redeemer.
Jesus Himself indicated that Mary holds no special place relative to redemption or mediation. In Matthew 12:47-50, Mary and her other sons were trying to see Jesus while He was teaching. he "Someone told him, 'Your mother and brothers are standing outside, wanting to speak to you.' He replied to him, 'Who is my mother, and who are my brothers?' Pointing to his disciples, he said, 'Here are my mother and my brotherrs. For whoever does the will of my Father in heaven is my brother and sister and mother.'"
Later, at the foot of the cross, Mary is a grief-stricken mother. She did not suffer for mankind as a whole; she clearly suffered her own pain and mourning. She is one of the people receiving salvation from Jesus, not a contributor to His work. She is anguished and must be cared for by the apostle John.
After Jesus' death and resurrection, Mary was part of the community of believers continuing in prayer and supplication prior to Pentecost (Acts 1:14). Mary is "most blessed among women" (Luke 1:42) because she was the mother of the Messiah. But she is not divine and cannot be seen as part of the Trinity. She did not redeem us from sin and cannot be made part of the redemptive process. Source

---
If you go to the store to buy Meat, don't run to the
Milk section
or the
Junk Food aisle
looking for it!!
The Meat Section is the
True Gospel of Jesus Christ
.
The Milk Section is likened to those who will not preach on sin and
Hell
, just a feel good message, the Social gospel.
The Junk Food Isle is the outright false doctrine AKA the prosperity gospel, name it and claim it, the Hebraic Roots movement and other false teachings!!
Feasting on just Milk and Junk will eventually cause you great harm, you can count on it!!
---
If you appreciate what this Ministry is doing to Expose the Fake Christians, Satanists, Witches, Communist/Socialist Democrats, R.I.N.O Republicans and the assault on our Conservative,
True Christian
values,
please consider a small donation
to help us continue and expand. This Ministry is not only under attack by the Enemy, we are now under attack from supposed Christians also. It is what
Tom Horn calls 'Blood on the Altar"
!