Victims support group slams online child sex abuse inside Catholic church.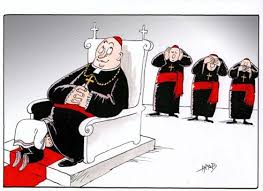 Adan Salazar – A leading child sex abuse support group has castigated Pope Francis for neglecting the Catholic church's role in corrupting children following the Vatican's child abuse world summit.
The Survivors Network of those Abused by Priests (SNAP) wrote on their website that the Pope's efforts should start with stamping out online sexual deviancy inside the Catholic church.
"If the Vatican is so dedicated to punishing people who use the internet to exploit children, the first thing they need to do is fix the problem within the church," SNAP managing director Barb Dorris said referring to the Pope's comments at the Child Dignity in the Digital World conference.
"Then they must punish their own bishops who covered up for men who made, uploaded, viewed or distributed child pornography."
On Friday, the Pope wrapped up the three-day summit by calling on members of the Catholic faith to rise up against the scourge of online pornography depicting both adults and children.
While Pope Francis tepidly acknowledged the church's "grave error" in attempting to cover-up numerous sex abuse scandals involving priests, bishops and other clergymen, he pointed to internet porn and the dark net as major contributors to the exploitation of children.
According to the Associated Press:
Francis said an international, cross-disciplinary approach was needed to protect children from the dark net and the "corruption of their minds and violence against their bodies."

Using terms that are certainly new to papal lexicon, Francis denounced "extreme pornography" on the web that adults, and increasingly children consume, and the increasing use of "sexting" and "sextortion" among the estimated 800 million minors who navigate the internet.

"We would be seriously deluding ourselves were we to think that a society where an abnormal consumption of internet sex is rampant among adults could be capable of effectively protecting minors," he said.
On its website SNAP, which claims to be the "world's oldest and largest support group for victims of sexual abuse in institutional settings," summarized a handful of recent child abuse instances related to the Catholic church which it described as merely the "tip off the iceberg":
– In August 2017 Father Kevin Gugliotta was sentenced to jail for disseminating child pornography. Gugliotta was suspended from ministry in 2003 for allegedly molesting a teenage boy in the 1980s. Because the incident occurred before he became a priest, the Archdiocese of Newark said this did not break their zero tolerance guidelines and reinstated him in 2004. https://cruxnow.com/church-in-the-usa/2017/08/25/priest-sentenced-child-pornography-said-revenge-god-poker-losses/

– In 2017, former Catholic pastor Clovis Vilchez-Parra was sentenced to four years in jail for possession of child pornography. http://www.chicagotribune.com/suburbs/arlington-heights/news/ct-priest-child-porn-met-20170427-story.html

– In May 2017, Ex-Los Banos, California priest Robert Gamel was arrested for possession of child pornography, less than six months after being released from jail for a pornography conviction. The crimes included possession of a nude image of a young female parishioner. http://www.mercedsunstar.com/news/local/crime/article148488359.html

– In 2016, Pennsylvania priest John Stephen Mraz was charged with possession of child pornography, criminal use of a communication facility and selling obscene materials. He pleaded guilty. http://www.ajc.com/news/crime–law/catholic-priest-charged-child-pornography-investigation/fAIqtgCiAK3ObAwu4TMRsJ/

– In 2016, Louisiana Priest Fr. Felix Broussard was arrested on 500 counts of child pornography. He has pleaded not guilty. http://www.theadvertiser.com/story/news/2017/05/02/priest-pleads-not-guilty-child-porn-case/101174814/

– In 2013, former Archbishop of St. Paul-Minneapolis John Nienstedt admitted that when learning one of his priests had images that may be child pornography on his computer, Nienstedt turned the computer over to a private investigator, not the police. https://www.mprnews.org/story/2014/04/22/archbishop-nienstedt-deposition

– In 2012, Kansas City/St. Joseph Bishop Robert Finn was convicted of failing to report suspected child abuse. He admitted that a he knew that one of his priests, Fr. Shawn Ratigan had hundreds of images of child pornography on his computer, but did not tell the police. http://www.latimes.com/world/europe/la-fg-church-abuse-charges-20170629-htmlstory.html
But while numerous arrests have taken place, they often go unreported by fellow clergymen, SNAP indicates.
"We have bishops who have actively covered up for criminals. We have had numerous arrests in the past year," Dorris said. "Not once have we seen a church official stand up and do the right thing for kids by calling the FBI or Interpol. The Vatican should not be leading this summit. They should be the target of this summit."
As noted by the New York Times, "the four-day congress, Child Dignity in the Digital World, is taking place mere weeks after the Holy See recalled Msgr. Carlo Capella, a church diplomat in the Vatican Embassy in Washington, amid accusations that he had possessed child pornography."
---
If you go to the store to buy Meat, don't run to the
Milk section
or the
Junk Food aisle
looking for it!!
The Meat Section is the
True Gospel of Jesus Christ
.
The Milk Section is likened to those who will not preach on sin and
Hell
, just a feel good message, the Social gospel.
The Junk Food Isle is the outright false doctrine AKA the prosperity gospel, name it and claim it, the Hebraic Roots movement and other false teachings!!
Feasting on just Milk and Junk will eventually cause you great harm, you can count on it!!
---
If you appreciate what this Ministry is doing to Expose the Fake Christians, Satanists, Witches, Communist/Socialist Democrats, R.I.N.O Republicans and the assault on our Conservative,
True Christian
values,
please consider a small donation
to help us continue and expand. This Ministry is not only under attack by the Enemy, we are now under attack from supposed Christians also. It is what
Tom Horn calls 'Blood on the Altar"
!