Thousands Attend Opening Dedication Ceremony Of $134 Million Dollar New Age Catholic Church On Site Of Robert Schuller's Old Crystal Cathedral
"It's spectacular, phenomenal, more than anything I could have imagined," said Mary Faley, 56, a teacher in Orange. "Robert Schuller is here in spirit, smiling down on us." As an example of the cathedral's multiculturalism, various choirs sang as one in four languages – accompanied by a stirring orchestral performance. "It sounds like a Broadway musical," Faley noted. It's not every day that the Roman Catholic Church occupies a New Age monument, and the unorthodox pairing provokes certain questions.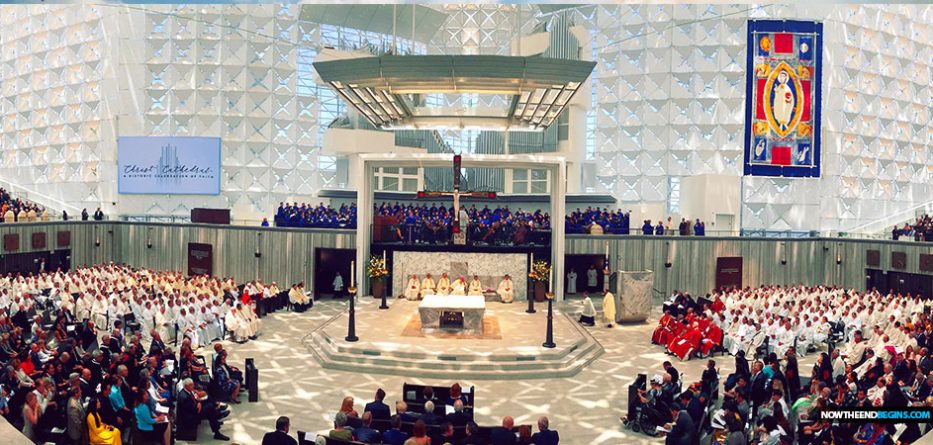 Geoffrey Grider | NTEB – For a (False) religion steeped in Babylonian and Egyptian ritual, the most sacred task was remaking a Protestant church into a Roman Catholic place of worship. That meant adding such features as the 20-foot-tall bronze "Bishop's Doors," a centerpiece called a baldachin and a 1,000-pound jeweled crucifix. Walnut pews and marble floors contribute to the splendor.
The Catholic Church has just opened a glittering, dazzle New Age temple in California that will undoubtedly serve as the western headquarters of Antichrist during the time of Jacob's trouble. It is the old Crystal Cathedral created by Prosperity preacher and false teacher Robert Schuller. I find it funny that the Catholic Church is always saying how poor they are, but have no problem spending $134 million for a church building ($57M) and renovations ($77M) while hundreds of thousands of homeless in California are eating garbage out of the dumpster. But that's a story for another day. Many thanks to eagle-eyed NTEB reader Josie for making us aware of this.
"And the woman was arrayed in purple and scarlet colour, and decked with gold and precious stones and pearls, having a golden cup in her hand full of abominations and filthiness of her fornication: And upon her forehead was a name written, MYSTERY, BABYLON THE GREAT, THE MOTHER OF HARLOTS AND ABOMINATIONS OF THE EARTH." Revelation 17:4-5

The dedication ceremony of this massive New Age Catholic temple looked for all the world like something out of a Left Behind novel. You had thousands of fawning worshippers applauding men wearing costumes, parading around a building that would be right at home in Revelation 17 and 18. The people attending remarked over and over about how much it all looked like a "Broadway musical", and how exciting it all was. And oh, in case you were wondering, yes, the relics of dead Catholic "saints" have already been placed under the oversized New Age altar so their Babylonian necromancy can proceed unhindered.
The irony here, of course, was that prosperity preacher and false teacher Robert Schuller loved the Catholic Church and constantly sang the praises of then-pope John Paul II. Robert Schuller was a Laodicean fraud who taught heresy, and as you will see in the video below, Billy Graham was right alongside with him. Schuller's "ministry" of prosperity gospel nonsense collapsed in front of his own eyes, and he lived long enough to see the Lord stamp 'ICHABOD' on the whole mess. A mess that in 2019, the Roman Catholic Church is more than happy to take over. I was happy to see the Washington Post reporting correctly for once, and calling it a 'New Age monument', because that is exactly what it is. Antichrist will feel right at home here when he shows up in the time of Jacob's trouble after the Rapture of the real Church.
It's not every day that the Roman Catholic Church occupies a New Age monument, and the unorthodox pairing provokes certain questions.
FROM THE WASHINGTON POST: For years, Christians, Southern Californians and design devotees alike have anticipated the resurrection of the Crystal Cathedral, the Orange County church designed by modernist architect Philip Johnson. It was the home of televangelist Robert Schuller and his "Hour of Power" TV program, watched in its heyday by tens of millions, in 156 countries.
Touted as the largest glass building in the world when it opened in 1980, the megachurch was purchased by the Roman Catholic Diocese of Orange in 2012, thanks to a messy bankruptcy. The diocese renamed it Christ Cathedral and, in fact, acquired the whole architecturally significant campus, including buildings by Richard Neutra and Richard Meier.
It's not every day that the Roman Catholic Church occupies a New Age monument, and the unorthodox pairing provokes certain questions. Could the glitzy building, countercultural in its way, be a fitting home for a faith rooted in tradition? Is Schuller's house of "Possibility Thinking" an apt home for the Sorrowful Mysteries? (The former is the name the late televangelist gave for his affirming worldview, and the latter is a group of Catholic meditations on suffering.)
"It does feel like a weird marriage," says Alexandra Lange, an architecture critic for Curbed. There's something "New Age-y" and "kitschy and cheery" about the cathedral that seems at odds with the "formality and sternness" associated with many Catholic buildings, says Dallas Morning News architecture critic Mark Lamster, who wrote a biography of Johnson.
It's noteworthy that this takeover is happening in the West, an increasingly important center of influence for a Catholic Church that is transforming. Many of Southern California's Catholic parishes are growing and multicultural, a contrast to the aging, white community that Schuller's church represented. The diocese of Orange is itself home to 1.3 million Catholics.
Cost savings may have been a motivating factor for the purchase. As cathedrals go, the diocese picked it up for a song, just $57.5 million. Some see the deal as an act of architectural preservation, if not devotion.
"We're giving it a life as a worship space and also trying to continue some of the traditions that were here, like the great music that used to be on this campus," said David Ball, Christ Cathedral's organist and assistant director of music.
A marble altar — the site where Christ's sacrifice on the cross is made present, according to Catholic teaching — was given a place of prominence, for instance. Bishop Kevin W. Vann went to Italy to pick out the white and blue-gray Carrara marble for the altar and baptismal font, according to the diocese.
A crucifix typical of Medieval art, weighing 1,000 pounds, has been installed high above the altar, according to the diocese. It was made of blackened steel in Nebraska.
A historic photo of Schuller shaking hands with Pope John Paul II was posted to Instagram by the diocese, too, pointing to an interesting bit of history: Schuller asked the pope to bless the architectural renderings before the first dedication, a generation ago.
An Instagram feed was launched recently for the cathedral itself. Its number of posts and followers remain modest. One post about preparations for Wednesday's dedication features a shot of a bright orange bucket that reads, simply, "Let's Do This." READ MORE
Watch As False Teachers Billy Graham And Robert Schuller Praise The Pope And Their New Age 'Jesus'
---
If you go to the store to buy Meat, don't run to the
Milk section
or the
Junk Food aisle
looking for it!!
The Meat Section is the
True Gospel of Jesus Christ
.
The Milk Section is likened to those who will not preach on sin and
Hell
, just a feel good message, the Social gospel.
The Junk Food Isle is the outright false doctrine AKA the prosperity gospel, name it and claim it, the Hebraic Roots movement and other false teachings!!
Feasting on just Milk and Junk will eventually cause you great harm, you can count on it!!
---
If you appreciate what this Ministry is doing to Expose the Fake Christians, Satanists, Witches, Communist/Socialist Democrats, R.I.N.O Republicans and the assault on our Conservative,
True Christian
values,
please consider a small donation
to help us continue and expand. This Ministry is not only under attack by the Enemy, we are now under attack from supposed Christians also. It is what
Tom Horn calls 'Blood on the Altar"
!