The Vatican Attacks Trump Supporters: White Christian Americans are "dangerous;" Islam is non-violent.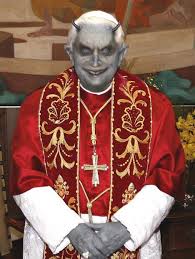 Front Page Magazine – In July, 2017, La Civilta Cattolica published an article entitled "Evangelical Fundamentalism and Catholic Integralism: A Surprising Ecumenism," a.k.a. "An Ecumenism of Hate." La Civilta Cattolica is Italian for Catholic Civilization. This publication is prestigious and long-lived. It was founded in 1850 and it is vetted by the Vatican. The authors of "An Ecumenism of Hate" are Antonio Spadaro a 51-year-old, Italian Jesuit and editor-in-chief of La Civilta Cattolica, and Marcelo Figueroa, a Presbyterian, Argentinian theologian. Both are close associates of Pope Francis.
"An Ecumenism of Hate" identifies Trump voters, Protestant and Catholic, as in need of correction, as they diverge from true Christian faith, and pose a threat to American democracy and world peace. These Trump voters are wrong about, or are handling in an incorrect way, the following: abortion, same-sex marriage, the environment, education, welfare, immigration, the current influx of migrants into Europe, and Islam. Given that the article was understood as a papally-endorsed, full-frontal attack on the president of the United States and his supporters, it received wide attention.
New York Times' readers exulted. "Glory hallelujah," says the reader response voted most popular by other readers. "I am not a Catholic but I believe Pope Francis is a true disciple of Christ," reads the second most popular response. "I wholly support Pope Francis' crusade against greed and exploitation… and hate-inspired exclusionary policies," "I am CHEERING," "Pope Francis … is the true moral leader of the world," read subsequent popular responses.
The Economist calls the article "startling." In Commonweal, author and theology professor Massimo Faggioli calls "An Ecumenism of Hate" a "must-read," because, inter alia, it shines a light on Vatican response to "Trump's Islamophobic remarks and advocacy for the deportation of undocumented immigrants." Trump voters and their ilk, Faggioli writes, are responsible for "new barriers … between Christianity and Islam."
Luis Badilla, editor of a popular Italian Catholic website, Il Sismografo, asks why Rome had to produce such an article. Why hadn't American bishops said, sooner and more emphatically, what the article said? American Catholic leaders were guilty of an "embarrassing silence."
There were some similar outpourings of joy at the Civilta Cattolica site. "My Muslim friends say that Francis is the one man on earth who is uncorrupted and can speak the truth. They love him," writes one reader.
John L. Allen writes in Crux that Spadaro and Figueroa "clearly reflect the kind of views held by the pontiff." Trump supporters hated the article, and Trump critics loved the article, Allen writes: "immediate reaction here mostly broke down along pro- or anti-Trump lines. If you're inclined to give the president a break, you probably hated the article, and vice-versa." The article deserves attention, Allen writes, because it breaks precedent. "This is not just business as usual. It's rare for a Vatican media outlet, even one that's only semi-official, to comment directly on the politics of another nation, especially in a fashion that can't help but be seen as fairly partisan."
A subsequent Crux article presents a "Latino / Latina take" on the article. "Underrepresented" Latinos and Latinas feel like "aliens in this Promised Land." Latinos and Latinas voted for Hillary Clinton. (The article really does insist, throughout, on referring to male and female Latinos and Latinas separately.)
The Jesuit magazine America's coverage features a photo of a sincere looking, attractive young woman holding a sign in front of the White House. Her message: "Resist Islamophobia."
New York Times columnist Ross Douthat wrote a critical response, calling the article "bad but important." The National Catholic Register condemns the article as "a collection of uninformed assertions spiced with malice." Spadaro and Figueroa attacked an obscure website, Church Militant. That website responded sharply, suggesting that the article might be "promoting positions contrary to Catholic teaching." In CatholicPhilly ,Archbishop Charles Chaput likens Spadero and Figueroa to Lenin's "useful idiots."
I am a proud and lifelong Catholic, author of a book defending my faith. I am not a Trump supporter. Reading Spadaro and Figueroa's reflection of my pope's thinking about my country and my fellow citizens enrages and disgusts me, and tempts me to despair. The article epitomizes the ignorant, arrogant liberal stance that got Trump elected in the first place. Spadaro and Figueroa, and, by extension, Pope Francis, have, in this article, not only failed to meet the challenge presented by the Trump phenomenon, they have taken giant steps in the wrong direction.
---
If you go to the store to buy Meat, don't run to the
Milk section
or the
Junk Food aisle
looking for it!!
The Meat Section is the
True Gospel of Jesus Christ
.
The Milk Section is likened to those who will not preach on sin and
Hell
, just a feel good message, the Social gospel.
The Junk Food Isle is the outright false doctrine AKA the prosperity gospel, name it and claim it, the Hebraic Roots movement and other false teachings!!
Feasting on just Milk and Junk will eventually cause you great harm, you can count on it!!
---
If you appreciate what this Ministry is doing to Expose the Fake Christians, Satanists, Witches, Communist/Socialist Democrats, R.I.N.O Republicans and the assault on our Conservative,
True Christian
values,
please consider a small donation
to help us continue and expand. This Ministry is not only under attack by the Enemy, we are now under attack from supposed Christians also. It is what
Tom Horn calls 'Blood on the Altar"
!