Pope Francis: Media Should Help People 'Distinguish Good from Evil'
Matthew 12:25-26 "And Jesus knew their thoughts, and said unto them, Every kingdom divided against itself is brought to desolation; and every city or house divided against itself shall not stand: 26 And if Satan cast out Satan, he is divided against himself; how shall then his kingdom stand?" 
When I saw that headline I just laughed. The Fake News, whose god is Satan, the father of all lies (John 8:44) does not know what good is! They are the epitome of Evil!  And the Pope does can't rightly divide what is good and evil (1st Corinthians 2:14-16) because he himself is evil!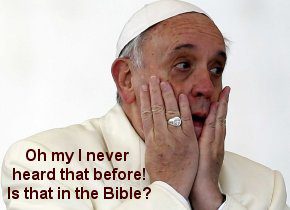 Isaiah 5:20-24 "Woe unto them that call evil good, and good evil; that put darkness for light, and light for darkness; that put bitter for sweet, and sweet for bitter! 21 Woe unto them that are wise in their own eyes, and prudent in their own sight! 22 Woe unto them that are mighty to drink wine, and men of strength to mingle strong drink: 23 Which justify the wicked for reward, and take away the righteousness of the righteous from him! 24 Therefore as the fire devoureth the stubble, and the flame consumeth the chaff, [so] their root shall be as rottenness, and their blossom shall go up as dust: because they have cast away the law of the LORD of hosts, and despised the word of the Holy One of Israel."
Breitbart News – Pope Francis told members of the Catholic Press Association Tuesday that the media should build bridges, defend life, and help people, especially the young, "to distinguish good from evil."

In their reporting, journalists should help people "to develop sound judgments based on a clear and unbiased presentation of the facts, and to understand the importance of working for justice, social concord and respect for our common home," the pope told them.

The pope sent his message to participants in a virtual Catholic media conference sponsored by the Catholic Press Association and began by expressing his closeness "to those who have been affected by the virus and to those who, even at the risk of their lives, have worked and continue to work in assisting our brothers and sisters in need."

The experience of the pandemic "has shown how essential is the mission of the communications media for bringing people together, shortening distances, providing necessary information, and opening minds and hearts to truth," Francis said.

The communications media are called "to inform and to unite," the pontiff said. "E pluribus unum – the ideal of unity amid diversity, reflected in the motto of the United States, must also inspire the service you offer to the common good."

"How urgently is this needed today, in an age marked by conflicts and polarization from which the Catholic community itself is not immune," he continued. "We need media capable of building bridges, defending life and breaking down the walls, visible and invisible, that prevent sincere dialogue and truthful communication between individuals and communities."

"We need media that can help people, especially the young, to distinguish good from evil, to develop sound judgments based on a clear and unbiased presentation of the facts, and to understand the importance of working for justice, social concord and respect for our common home," he said. Read more here
 See also: The Battle between Good and Evil: Part 1 Part 2  Part 3
This foolish Catholic is not alone in NOT being able to tell what is Good and Evil.  90% of other beliefs and supposed Christians can't discern the difference!
Romans 11:8-10 "According as it is written, God hath given them the spirit of slumber, eyes that they should not see, and ears that they should not hear; unto this day. 9 And David saith, Let their table be made a snare, and a trap, and a stumblingblock, and a recompence unto them: 10 Let their eyes be darkened, that they may not see, and bow down their back alway."
---
If you go to the store to buy Meat, don't run to the
Milk section
or the
Junk Food aisle
looking for it!!
The Meat Section is the
True Gospel of Jesus Christ
.
The Milk Section is likened to those who will not preach on sin and
Hell
, just a feel good message, the Social gospel.
The Junk Food Isle is the outright false doctrine AKA the prosperity gospel, name it and claim it, the Hebraic Roots movement and other false teachings!!
Feasting on just Milk and Junk will eventually cause you great harm, you can count on it!!
---
If you appreciate what this Ministry is doing to Expose the Fake Christians, Satanists, Witches, Communist/Socialist Democrats, R.I.N.O Republicans and the assault on our Conservative,
True Christian
values,
please consider a small donation
to help us continue and expand. This Ministry is not only under attack by the Enemy, we are now under attack from supposed Christians also. It is what
Tom Horn calls 'Blood on the Altar"
!