"Some of them were probably gay. A certain percentage of humanity is gay, and so were most likely some of the saints. You may be surprised when you get to heaven to be greeted by LGBT men and women."
You people really need to know Biblically Who is a Saint and Who is NOT!  These pervert priests certainly do not know!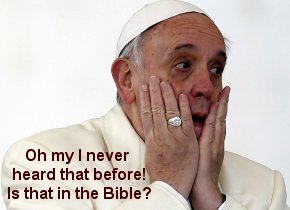 1st Corinthians 6:9-11 "Know ye not that the unrighteous shall not inherit the kingdom of God? Be not deceived: neither fornicators, nor idolaters, nor adulterers, nor effeminate, nor abusers of themselves with mankind,10 Nor thieves, nor covetous, nor drunkards, nor revilers, nor extortioners, shall inherit the kingdom of God."
Please note reader what the Holy Spirit has the Apostle Paul write in the very next verse: "11 And such were (past tense) some of you: but ye are washed, but ye are sanctified, but ye are justified in the name of the Lord Jesus, and by the Spirit of our God."
Get out and get saved before it is to late!
May 9, 2017 (LifeSiteNews) — Faithful Catholics may be in for a "surprise" when they "get to heaven to be greeted by LGBT men and women," said a controversial Catholic priest who was appointed by Pope Francis last month to the Vatican's communications office.
Jesuit priest Fr. James Martin, editor-at-large of the Jesuit-run America magazine, made the comment on his Facebook page May 5 after posting a link to a pro-homosexual event put on by New Ways Ministry and calling it "another sign of welcome and building bridges."
When one Facebook commenter responded that "any canonized Saints would not be impressed" by the infiltration of homosexuality within the Catholic Church, Martin replied that some of the saints are "probably gay."​ Read more here.
In addition to this blasphemous heretic, the Bastard Pope just made the two Fatima children saints!
No Mr. homosexual, there will be NO homosexuals in heaven. They will however appear before GOD at the Great White Throne on Judgement Day  and then be cast INTO HELL, along with you unless you repent and get out of the Whore Religion!
---
If you go to the store to buy Meat, don't run to the
Milk section
or the
Junk Food aisle
looking for it!!
The Meat Section is the
True Gospel of Jesus Christ
.
The Milk Section is likened to those who will not preach on sin and
Hell
, just a feel good message, the Social gospel.
The Junk Food Isle is the outright false doctrine AKA the prosperity gospel, name it and claim it, the Hebraic Roots movement and other false teachings!!
Feasting on just Milk and Junk will eventually cause you great harm, you can count on it!!
---
If you appreciate what this Ministry is doing to Expose the Fake Christians, Satanists, Witches, Communist/Socialist Democrats, R.I.N.O Republicans and the assault on our Conservative,
True Christian
values,
please consider a small donation
to help us continue and expand. This Ministry is not only under attack by the Enemy, we are now under attack from supposed Christians also. It is what
Tom Horn calls 'Blood on the Altar"
!