The False Prophet paving the way for the Anti-Christ!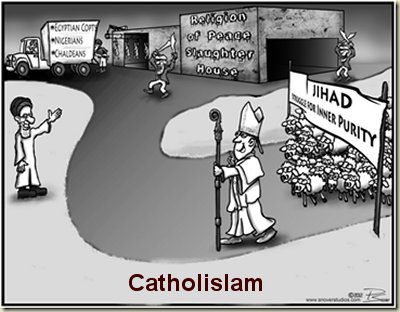 To True Christians, a Muslim is NOT a brother or sister. They may be to the pope and other Catholics because Catholicism is NOT Christianity. It is a pagan religion just like Islam—so YES—they are HIS brothers and sisters—in the name of Satan!!!
We are to separate ourselves from them and to try and show them the truth, not encourage them in their false beliefs (See the Doctrine of Separation Here)
Ephesians 5:11 "And have no fellowship with the unfruitful works of darkness, but rather reprove them."
2nd Corinthians 6:17-18 "Wherefore come out from among them, and be ye separate, saith the Lord, and touch not the unclean thing; and I will receive you, 18 And will be a Father unto you, and ye shall be my sons and daughters, saith the Lord Almighty."
If they do not accept the Gospel of Jesus Christ, we are to shake the dust from our feet as we leave them!
Matthew 10:14 "And whosoever shall not receive you, nor hear your words, when ye depart out of that house or city, shake off the dust of your feet."
This means they have had the opportunity to hear and accept the truth, but they rejected it, so leave all there with them even the dust!
See more at The Disease of False Religion
You also need to know exactly what a Brother or Sister in Christ is Biblically—according to What the Word of God says—and not a false prophet!
Sowing Discord among the Brethren Part 3 – Who, exactly, are "the Brethren" and who are not?  In fact, you need to read the whole Series starting at Part 1. Here is an excerpt from Part 3:
… a "Religious" view of Brethren. It is NOT the same as saying your brothers in the family unit, if you have brothers that is. Defining will clear up a lot of misconception and accusation of who the brethren really are. I don't go around calling every male, I see, my brother. The black community does (here in America at least) and I have my own idea as to why they do so.

According to general secular thinking, the only people that I call brothers are my natural brothers, from my mother and father. That is my blood family. This is completely different from what the Bible calls Brethren, or a brother and sister in Christ.

In Biblical terms, your brother (or sister) in Christ is anyone one who has accepted the Gospel and made Jesus Christ their Lord and savior. That is according to what the Bible says, NOT mans flawed interpretation! Let me reiterate Brethren that the Bible is referring to your brothers or sisters IN CHRIST. "In Christ", implying that they believe in Jesus Christ as Lord and Savior and follow the teachings of the New Testament. Clearly, All SCRIPTURE (Both Old and New Testament) from the first word of Genesis chapter 1 through to the very last word in Revelation chapter 22, IS the Word of God, written by men as inspired by the Holy Spirit. (Though not all Bibles in print today are accurate.) Here, only for the purpose of clarifying the definition of the term "Brethren in Christ", we will refer mainly to New Testament scripture. Read more here
Pope Calls for New Catholic Theological Curriculum – Teaching Students to View Muslims as Brothers
Jihad Watch – Pope Francis has issued a call for reform within "the way theology is taught in Catholic schools, saying students must learn about dialogue with Judaism and Islam" and establish "the relationship between Catholics and Muslims as brothers, with a common mission to promote peace."
Christianity already consists of the Old Testament (Judaism) and the New Testament. In the Christian tradition, the Messiah is already deemed to be Jewish "of the House of David", so increasing dialogue with Judaism is promoting a deeper understanding of the roots of Christianity. Beyond this, increasing dialogue with any faith group is a good thing, once it is based on mutual values and truth.
Islam is very different. It teaches that "the vilest of animals in Allah's sight are those who have disbelieved" (Quran 8:55) and because of such doctrine,  complete loyalty to Islam and disavowal of disbelievers is foundational.  The oneness of God (Tawhid) and the supremacy of the sharia are also foundational. In Islam real Muslims must fully and completely reject disbelievers and un-Islamic practices Further, the world is divided in two in Islamic doctrine: The House of War and the House of Islam where it is the duty of Muslim believers to subjugate the House of War and wage jihad against it until it becomes the House of Islam. If such beliefs were not abundantly manifested today, there would be no problem, but a day does not go by without news of Islamic supremacist abuse and persecution, in accordance with written doctrine to subjugate and advance Islam.
The Pope is pushing for Catholic students to be taught the lie that normative Islam is a religion of peace and so, it follows that anyone who disagrees with this lie would be deemed "intolerant", opposed to dialogue and  pluralism. It is Islam that is intolerant, supremacist and resistant to diversity. If the Pope is genuine about dialogue, then he should be mutually calling for Islamic States and Islamic schools (beginning with Al Azhar University in Cairo) to establish and preach equal status to all disbelievers, for women, gays etc.,  and promote dialogues with unbelievers like Christians, Jews, Hindus, Buddhists etc.
In his promotion of Islam, the Pope has become "the Grand Sheikh Francis of Al Vatican", and is dismissing the sufferings of persecuted Christians, victims of jihad terror and assaults. The Pope's call for reform within "the way theology is taught in Catholic schools" is a continuation of his dogged efforts which are subjugating Christianity under Islam. His call for reform came "during a speech at the Jesuit-run theology university in Naples. It follows his outreach this year to the Muslim world with the signing of a joint statement with the imam of Cairo's Al Azhar, the seat of Sunni learning, establishing the relationship between Catholics and Muslims as brothers, with a common mission to promote peace",  ie. so-called 'peace'.  Ahead of the Pope's trip to Morocco in March, the Vatican media went so far as to abandon the traditional papal insignia. Vatican News explained that a new specially created symbol — a cross and a crescent — "are symbols of Christianity and Islam which highlight the interreligious relation between Christians and Muslims." Also in preparation of this trip Pope Francis met in the Vatican with Dr. Muhammad bin Abdul Karim Al-Issa, the secretary general of the Muslim World League (MWL), a group that has been linked to the financing of jihad terror.
As stated by Robert Spencer :
During the meeting, al-Issa thanked the Pope for his "fair positions" on what he called the "false claims that link extremism and violence to Islam." In other words, he thanked the Pope for dissembling about the motivating ideology of jihad terror, which his group has been accused of financing, and for defaming other religions in an effort to whitewash Islam.
The Grand Imam of Cairo's al-Azhar, Ahmed al-Tayeb, has extended his gratitude and thanked the Pope for his "defense of Islam against the accusation of violence and terrorism." Christianity is still waiting for the Pope to defend it against widespread Islamic persecution.
In direct contradiction to Pope Francis, Cardinal Robert Sarah — prefect of the Congregation for Divine Worship and the Discipline of the Sacraments–has called it "his duty" to warn fellow Christians and Europe that Islam is not benign but expansionary and threatens free societies. He stated: "As during the fall of Rome, elites are only concerned to increase the luxury of their daily life and the peoples are being anesthetized by ever more vulgar entertainment… The barbarians are already inside the city." He was referencing to Muslim migrants who have now immigrated but not integrated into Western societies.
Meanwhile, Pope Francis has heavily promoted Muslim migration, calling it unchristian to be against open-door immigration. But in Cardinal Sarah's warning: "it is a false exegesis [interpretation of scriptural text] to use the Word of God to promote migration. God never wanted these rifts."
The Pope of Islam holds the highest office in the Catholic Church, but yet is serving as a deceived servant, a blind guide; and despite his pontificating about welcoming "the stranger" while condemning border walls, he has not yet torn down his own walls of protection at the Vatican to fully embrace and welcome in those same migrants and adherents of the ideology that he is advancing within the Church.
"Pope seeks more freedom in theology, dialogue with Islam", ABC News, June 21, 2019:
Pope Francis called Friday for a reform of the way theology is taught in Catholic schools, saying students must learn about dialogue with Judaism and Islam, and that overall there must be greater freedom in theological research and academic pursuits.

The Jesuit pope made the call during a speech at the Jesuit-run theology university in Naples. It follows his outreach this year to the Muslim world with the signing of a joint statement with the imam of Cairo's Al Azhar, the seat of Sunni learning, establishing the relationship between Catholics and Muslims as brothers, with a common mission to promote peace.

In his speech, Francis said dialogue and partnership with the Muslim world is necessary "to build a peaceful existence, even when there are the troublesome episodes by fanatic enemies of dialogue."

Catholic theology students must learn the culture, language and way of thinking of Jews and Muslims "to better understand and live out our relationship," he said.

After the theologically doctrinaire papacies of St. John Paul II and Pope Benedict XVI, Francis has stressed instead the need to "walk together" with interfaith partners, often joking that theologians should ruminate on a deserted island while religious leaders press ahead with dialogue on the ground. He has also called for a more pastoral, merciful and conscience-driven approach to sticky theological problems, such as Communion for the civilly remarried.

"Theological freedom is necessary," Francis said Friday. "Without the possibility of trying new paths, you don't create anything new."….
Posted with permission from Jihad Watch

---
If you go to the store to buy Meat, don't run to the
Milk section
or the
Junk Food aisle
looking for it!!
The Meat Section is the
True Gospel of Jesus Christ
.
The Milk Section is likened to those who will not preach on sin and
Hell
, just a feel good message, the Social gospel.
The Junk Food Isle is the outright false doctrine AKA the prosperity gospel, name it and claim it, the Hebraic Roots movement and other false teachings!!
Feasting on just Milk and Junk will eventually cause you great harm, you can count on it!!
---
If you appreciate what this Ministry is doing to Expose the Fake Christians, Satanists, Witches, Communist/Socialist Democrats, R.I.N.O Republicans and the assault on our Conservative,
True Christian
values,
please consider a small donation
to help us continue and expand. This Ministry is not only under attack by the Enemy, we are now under attack from supposed Christians also. It is what
Tom Horn calls 'Blood on the Altar"
!