The Fudge Packers, Down Under, (pun intended) are fighting hard so they won't be outed! If they start giving over fellow pedophiles it won't be long before the perverts they named will start singing about their dirty deeds!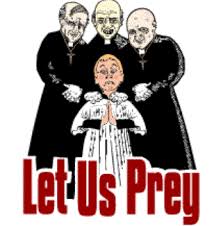 I don't know of any scripture in the Bible that instructs someone to cover up crimes. There are however, many that speak to those who harm children. Here is just one:
Matthew 18:6-7 "But whoso shall offend one of these little ones which believe in me, it were better for him that a millstone were hanged about his neck, and that he were drowned in the depth of the sea. 7 Woe unto the world because of offences! for it must needs be that offences come; but woe to that man by whom the offence cometh!"
And further more, if as person helps another who has committed a crime against humanity and does nothing, they are in a sense condoning and giving blessing to that person. WOE unto them!
2nd John 1:9-11 "Whosoever transgresseth, and abideth not in the doctrine of Christ, hath not God. He that abideth in the doctrine of Christ, he hath both the Father and the Son. 10 If there come any unto you, and bring not this doctrine, receive him not into your house, neither bid him God speed: 11 For he that biddeth him God speed is partaker of his evil deeds.
From ABC AU. 
South Australia has joined the ACT in moving ahead with laws to force Catholic priests to break the seal of confession, to report paedophiles to police.

Other states are still deliberating over whether or not they will adopt that recommendation from the royal commission.

But Catholic Church leaders have rejected the idea.

Father Michael Whelan, the parish priest in St Patrick's Church Hill in Sydney, said priests would not break the seal of confession.

"The state will be requiring us as Catholic priests to commit as what we regard as the most serious crime and I'm not willing to do that," Father Whelan said.

The New South Wales Government has said it would respond later this month about whether priests would be legally obliged to report confessions of child sex abuse.

"I expect every jurisdiction in Australia now will follow that recommendation and I expect the church throughout will simply not observe it?" Father Whelan said.

Asked if the Catholic Church was above the law, he said: "Absolutely not, but when state tries to intervene on our religious freedom, undermine the essence of what it means to be a Catholic, we will resist."

"The only way they [the states] would be able to see whether the law was being observed or not is to try and entrap priests."

Father Whelan said he was "willing to go to jail" rather than abide by a law.

An alternative, if a priest hears a paedophile confess sins of child sexual abuse, would be to "stop them immediately", says Father Whelan.

"I would say, 'Come with me now, we will go down to the police station in order for you to show that you are remorseful'," he said.

NSW Labor senator Kristina Keneally, who is a scholar of theology and a Catholic, said church could not put itself above the law, but mandatory reporting was not the most effective way to prevent abuse.

"I would look to ordination itself, I would look to who we ordain," she said.

"I have no doubt that if more women and more parents were involved in the leadership of their Catholic Church, that the problem of child sexual abuse would not have been as big as it was and would have been dealt with far differently when it came to light within the institution." Source
---
If you go to the store to buy Meat, don't run to the
Milk section
or the
Junk Food aisle
looking for it!!
The Meat Section is the
True Gospel of Jesus Christ
.
The Milk Section is likened to those who will not preach on sin and
Hell
, just a feel good message, the Social gospel.
The Junk Food Isle is the outright false doctrine AKA the prosperity gospel, name it and claim it, the Hebraic Roots movement and other false teachings!!
Feasting on just Milk and Junk will eventually cause you great harm, you can count on it!!
---
If you appreciate what this Ministry is doing to Expose the Fake Christians, Satanists, Witches, Communist/Socialist Democrats, R.I.N.O Republicans and the assault on our Conservative,
True Christian
values,
please consider a small donation
to help us continue and expand. This Ministry is not only under attack by the Enemy, we are now under attack from supposed Christians also. It is what
Tom Horn calls 'Blood on the Altar"
!