Ummm, yes it does! It poses a very high risk to get you cast into the lake of fire! Communion does NOT Save you or make you more holy!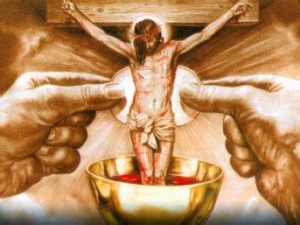 One must be very very careful about taking communion. If you take it in an unworthy manner, you can eat and drink yourself into sickness, disease or even damnation! There are millions, especially Catholics that are taking it in an unworthy manor.
1st Corinthians 11:27-32 Wherefore whosoever shall eat this bread, and drink this cup of the Lord (take communion), unworthily, (not being Born Again and having your FAITH exclusively in Jesus Christ and NOTHING else) shall be guilty of the body and blood of the Lord. (will be judged harshly) 28 But let a man examine himself (see if there is any confessed sin or if your faith is some where else), and so let him eat of that bread, and drink of that cup. 29 For he that eateth and drinketh unworthily, eateth and drinketh damnation to himself, not discerning the Lord's body. (what he did for you on the Cross) 30 For this cause many are weak and sickly among you, and many sleep (die prematurely). 31 For if we would judge ourselves, we should not be judged. 32 But when we are judged, we are chastened of the Lord, that we should not be condemned with the world.
US Bishops Approve Communion on the Tongue – Say practice poses no 'unreasonable risk'
WASHINGTON (ChurchMilitant.com) – The U.S. bishops' conference (USCCB) is informing American prelates that it's safe to distribute Holy Communion on the tongue.

This guidance came in the form of a USCCB memorandum sent April 30 to all U.S. bishops by the Committee on Divine Worship chairman Abp. Leonard Blair of Hartford. The memorandum contains guidelines that reference a universally binding instruction titled Redemptionis Sacramentum, issued in 2004 by the Congregation of Divine Worship (CDW):

We have carefully considered the question of Communion on the tongue vs. Communion in the hand. Given the Church's existing guidance on this point (see Redemptionis Sacramentum, no. 92), and recognizing the differing judgments and sensibilities that are involved, we believe that, with the precautions listed here, it is possible to distribute on the tongue without unreasonable risk.

These guidelines, titled "Phased Restoration of Public Masses" and which were contained in the memorandum, were prepared by the Thomistic Institute at the Dominican House of Studies in Washington (Institute). The guidelines were established by the Institute's working group consisting of priests and medical doctors including infectious specialist Dr. Timothy Flanagan. Read more here
Read these 2 articles. The info will save you from Hell is you heed what is presented, turn away from false religion, and become Born Again!  Scriptures Disprove Transubstantiation – The Eucharist/Transubstantiation Heresy of the Catholic Church
---
If you go to the store to buy Meat, don't run to the
Milk section
or the
Junk Food aisle
looking for it!!
The Meat Section is the
True Gospel of Jesus Christ
.
The Milk Section is likened to those who will not preach on sin and
Hell
, just a feel good message, the Social gospel.
The Junk Food Isle is the outright false doctrine AKA the prosperity gospel, name it and claim it, the Hebraic Roots movement and other false teachings!!
Feasting on just Milk and Junk will eventually cause you great harm, you can count on it!!
---
If you appreciate what this Ministry is doing to Expose the Fake Christians, Satanists, Witches, Communist/Socialist Democrats, R.I.N.O Republicans and the assault on our Conservative,
True Christian
values,
please consider a small donation
to help us continue and expand. This Ministry is not only under attack by the Enemy, we are now under attack from supposed Christians also. It is what
Tom Horn calls 'Blood on the Altar"
!