See Harry Potter a new Twist to Witchcraft!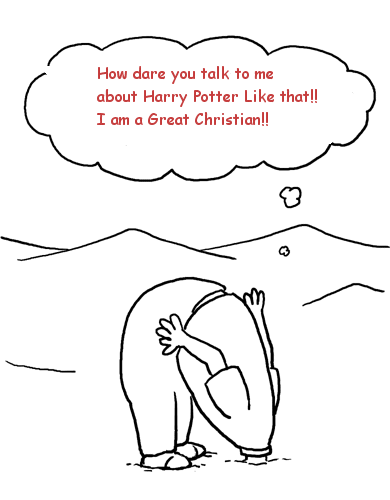 "Mark Kennedy grew up a Catholic, and a Harry Potter fanatic. Only one stuck."

John 3:3 "Jesus answered and said unto him, Verily, verily, I say unto thee, Except a man be born again, he cannot see the kingdom of God."
John 14:6 "Jesus saith unto him, I am the way, the truth, and the life: no man cometh unto the Father, but by me." 
NOT HARRY POTTER or by any other means!
Well there you have it! A pagan already (Catholicism) embracing the witchcraft of Harry Potter and starting another pagan religion! Who would have thunk that? It would not have mattered if Catholicism was the one that "stuck". It too is based on Paganism and Witchcraft!
Excerpted from the Devils Den Washington Post – "I considered myself a non-spiritual person," he said. He thought he was done with religion. And then he stumbled on the podcast "Harry Potter and the Sacred Text."
The podcast told him that the Harry Potter series — the books that he always turned to for solace when he was angry or stressed or in need of an escape — could be a source of spiritual sustenance.
"I feel like I'm born again," he said.
On Tuesday night, Kennedy came to an event space at Sixth & I Historic Synagogue in the District with hundreds of fellow fans of the podcast, who have found a surprising spirituality in the magical fiction series, which turns 20 years old this year.
Hosted by Harvard Divinity School graduates Casper ter Kuile and Vanessa Zoltan, the podcast "Harry Potter and the Sacred Text" became the number-two podcast in America on iTunes soon after it debuted last summer. It has inspired face-to-face Potter text reading groups, akin to Bible study more than book club, in cities across the country. In Harvard Square, ter Kuile and Zoltan host a weekly church-like service for the secular focused on a Potter text's meaning.
In the episode they taped at Sixth & I, they used one chapter of the third Harry Potter book as a vehicle for discussing the topics of trust, betrayal, love and prejudice (against werewolves).
Touring the country this summer, the podcasters have been met night after night by adoring, mostly millennial crowds who want to soak up their secular meaning-making. For the growing slice of Americans who label themselves "spiritual but not religious," Casper ter Kuile and Vanessa Zoltan are kind of pop stars.
They seen to be incorporating all the pagan religions including Jewish Mysticism. 
[…] Following a Jewish study method called Pardes, they analyzed the sole sentence on four levels, leading from the actual events of the story — a professor, looking at a moving map to see if it reveals that his students are in trouble — to an eventual sermonic conclusion. "I think what I would preach is that everybody needs to be taken care of in different ways. You should take care of the person in the form they need to be taken care of, not in the way that works for you. We have to teach each other how to take care of each other," Zoltan said. See the rest here.
About HDS. From the horses Mouth:
"Harvard Divinity School is a nonsectarian school of religious and theological studies that educates students both in the pursuit of the academic study of religion and in preparation for leadership in religious, governmental, and a wide range of service organizations."
In plain English… They are training up Pharisees! And who paid Judas 30 pieces of silver to BETRAY Jesus? Why the Pharisees, the Chief Priests, the "religious leaders". It's no different today. They are still betraying Jesus!
They do NOT teach the Gospel of Jesus Christ. They train fools in a secular manner about God and other "religions"! Christianity IS NOT A RELIGION! It is a personal relationship with Jesus Christ the Son of THE Living God! That is contrary to what that devil popes says: Pope Francis tells Catholics in Rome that a 'Personal Relationship' with Jesus is 'Dangerous and Harmful'.
---
If you go to the store to buy Meat, don't run to the
Milk section
or the
Junk Food aisle
looking for it!!
The Meat Section is the
True Gospel of Jesus Christ
.
The Milk Section is likened to those who will not preach on sin and
Hell
, just a feel good message, the Social gospel.
The Junk Food Isle is the outright false doctrine AKA the prosperity gospel, name it and claim it, the Hebraic Roots movement and other false teachings!!
Feasting on just Milk and Junk will eventually cause you great harm, you can count on it!!
---
If you appreciate what this Ministry is doing to Expose the Fake Christians, Satanists, Witches, Communist/Socialist Democrats, R.I.N.O Republicans and the assault on our Conservative,
True Christian
values,
please consider a small donation
to help us continue and expand. This Ministry is not only under attack by the Enemy, we are now under attack from supposed Christians also. It is what
Tom Horn calls 'Blood on the Altar"
!